Tottenham Hotspur captured the awe of the Premier League with their early-season exploits, but the resurgence under Ange Postecoglou took a hit before the November international break.
Injuries and suspensions were key factors in defeats against Chelsea and Wolverhampton Wanderers, but the potential under the Australian's wing speaks for itself with table-toppers Manchester City still just two points ahead.
Recent weeks have underlined that Spurs' weakness in depth now borders on threadbare, and could prove to topple the framework established over the past few months if the fold is not deepened in January.
Tottenham transfer news – Andre

While defensive reinforcement will likely take precedence in the forthcoming winter transfer window, Tottenham will aim to make moves across various departments of the field if the opportunity arises, and the chance to sign Brazilian midfielder Andre may be too good to turn down.
According to talkSPORT, the Lilywhites are willing to cash in on Denmark international Pierre-Emile Hojbjerg to beat Arsenal, Liverpool and Manchester United to the signing of Andre.
Speaking to GIVEMESPORT, reporter Ben Jacobs revealed that he could cost around £35m, but should Tottenham recuperate some funds from a possible sale of Hojbjerg, they may well have the means to present the Brazilian maestro with an enticing package.
Andre's style of play

It's worth noting that Andre is dynamic and has been featured at centre-back for Fluminense, which could be a valuable tool for Postecoglou to get his mitts on, offering protection across multiple positions.
One of the finest passers of the ball in South America, Andre, aged 22, has sparkled across his 26 starts in the Brasileiro Serie A this season, completing 95% of his passes, averaging 1.9 tackles and 7.6 ball recoveries per game and succeeding with 71% of his dribbles, as per Sofascore.
Hailed as a "leader" by talent scout Jacek Kulig, he really does feel like a tailor-made option to deploy into the Spurs fray, and he could blossom into the finest midfielder at Postecoglou's disposal, perhaps even surpassing Yves Bissouma as the celestial star in the engine room.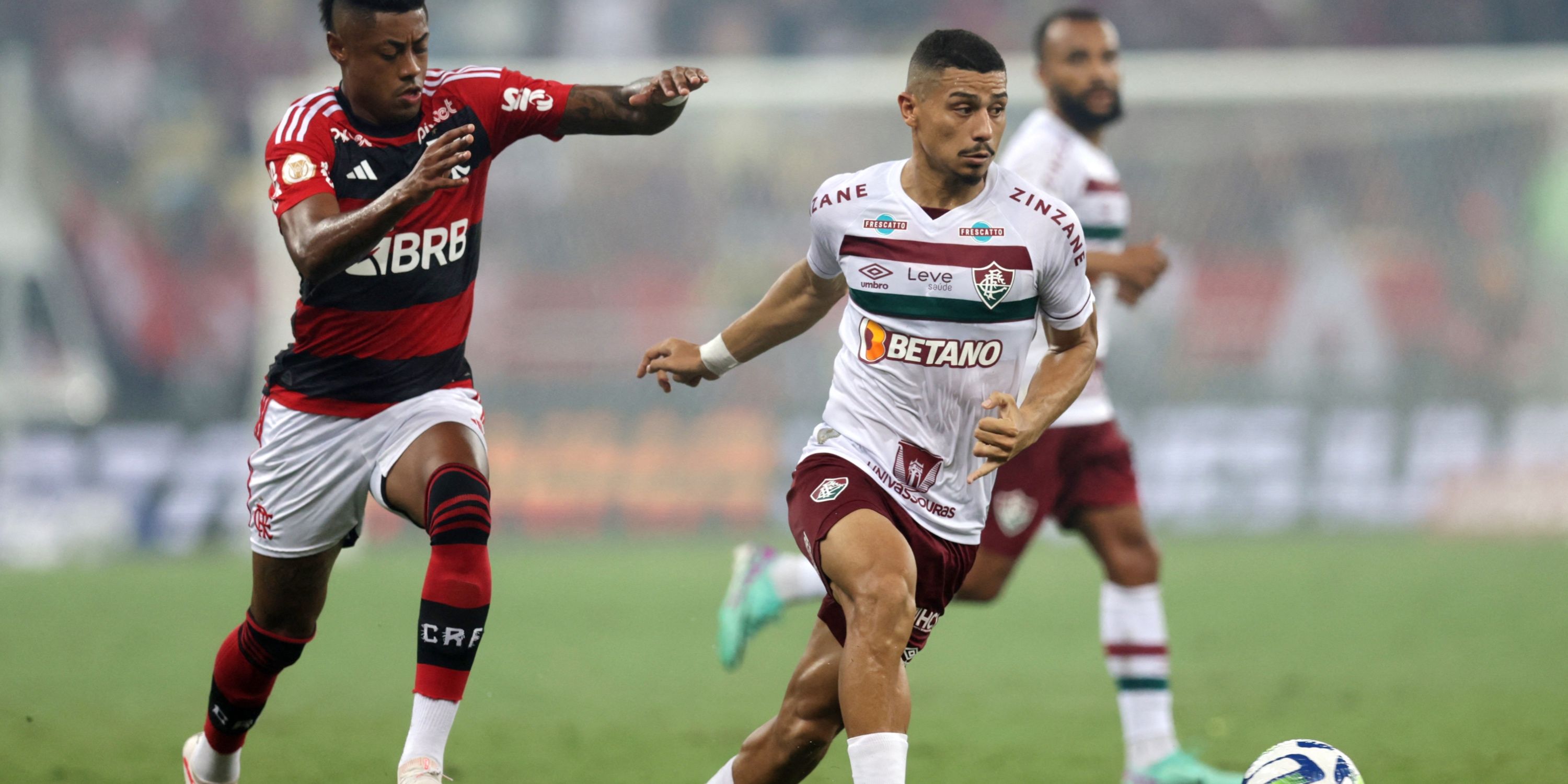 Bissouma has been one of Tottenham's biggest success stories this season after flattering to deceive last year and has completed 92% of his passes, made 3.3 tackles and 5.5 ball recoveries on average in the Premier League.
But at 27-years-old, the Malian probably does not have as much scope for growth as his South American counterpart, who boasts all of the attributes to flourish at the highest level on the major stage in Europe.
How Andre compares to Declan Rice

Described as a "monster of a player" by journalist Fernando Campos, Andre is rightfully attracting the attention of some of the Premier League's big-hitters after a captivating rise in his homeland, and he could become a leading figure on English shores with management from a manager of Postecoglou's merit.
As per FBref, Andre ranks among the top 1% of midfielders across divisions similar to the Brasileiro Serie A for pass completion, the top 2% for passes attempted and the top 13% for successful take-ons per 90 – showcasing his passing prowess and knack for progression.
Such qualities, blended with his robustness, could put him in good stead to rival someone of Declan Rice's calibre, with the esteemed England international thriving since making the £105m switch to Arsenal from West Ham United in the summer.
Rice is accepted as one of European football's standout centre-midfielders and has been incredible for the Gunners in the English top-flight, completing 92% of his passes, making 2.0 tackles, five ball recoveries and 0.8 key passes per game, posting two goals and an assist already.
The £240k-per-week machine offers similar passing assurance to Andre, and while he is not matching him for defensive output, it is probable that his numbers would decrease somewhat placed in the rigours of Premier League football.
Nonetheless, he is immensely talented and could prove to be a starring figure at the top of the game in years to come, and Postecoglou must ensure that he joins Tottenham to ensure that the seasonal revival solidifies into immovable first-class quality.